Deploy
Applicable to Deploy Edition
PrimeHub Deploy is a standalone Model Deployment tier from PrimeHub Enterprise edition. It incorporates Models, Deployments, Shared Files features intact and certain administration features from PrimeHub Enterprise edition that administrators can manage resources and group privileges to models and deployments.
Group-Context

First of all, users have to specify a working group from joining groups by using the dropdown. Accordingly, the following right-side context is retained within the working group, it is so called Group-Context.

If users don't belong to any group, the page shows No group available without any features. Please contact administrators.

Home

At Home, the layout has three areas:
Getting Started/Open: it has links of external documents where users can get started from and shortcuts of features where users can take actions quickly.

Recent: it displays recent activities done by the user; where users can have a quick-view of activities status.

Resource Dashboard: it displays used/limit group quotas.
Profile Menu

Hovering over top-right icon, there is a Profile Menu containing User Profile, Change Password, API Token, Admin Portal and Logout shortcuts
User Portal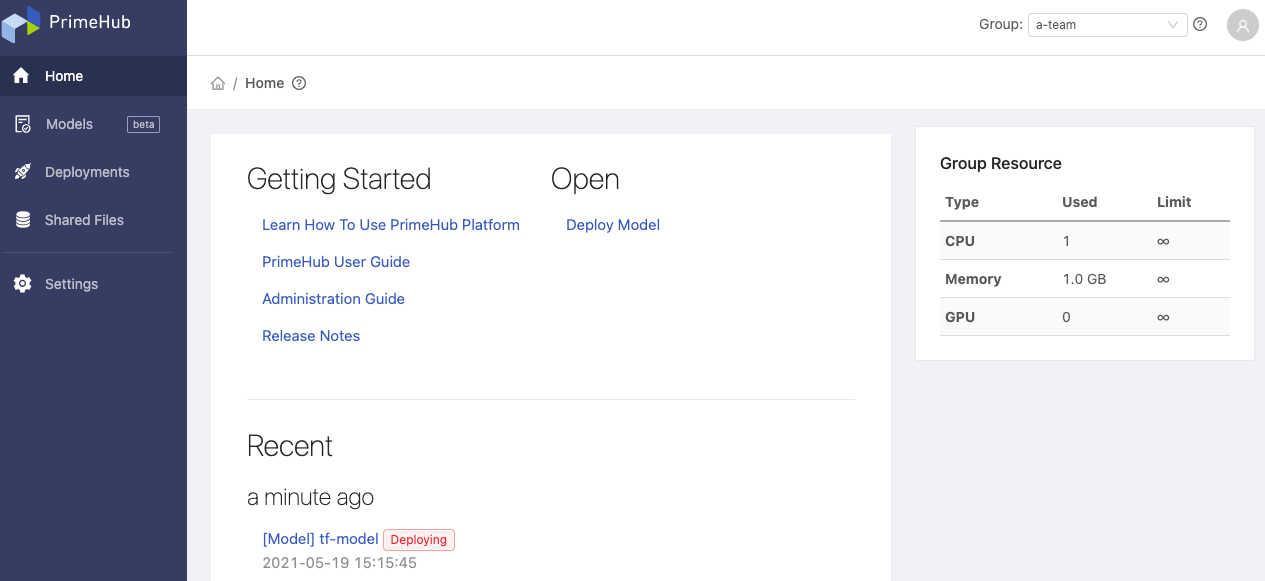 After login, it lands on User Portal.
On portal, the left side is side menu, the right side is the context varied in the specified working group. At the top of the right side; Group: dropdown for switching working groups. Users can switch the working group among joining groups easily.

User Feature
Group admin feature
Settings where Group Admin can view settings configured by Platform Admin of the managed group and modify the default timeout setting of Jobs. See Settings.