Enterprise
Applicable to Enterprise Edition
Community
Applicable to Community Edition
PrimeHub aims at being a MLOps platform where scientists can orchestrate data/tools for the acceleration of researches. In terms of a platform, we introduce PrimeHub Apps that PrimeHub capability is able to be extended by integrations of 3rd-party applications such as auto ML tools, visualization tools, etc. These integrated applications also benefit from access-control and resource constraints of PrimeHub.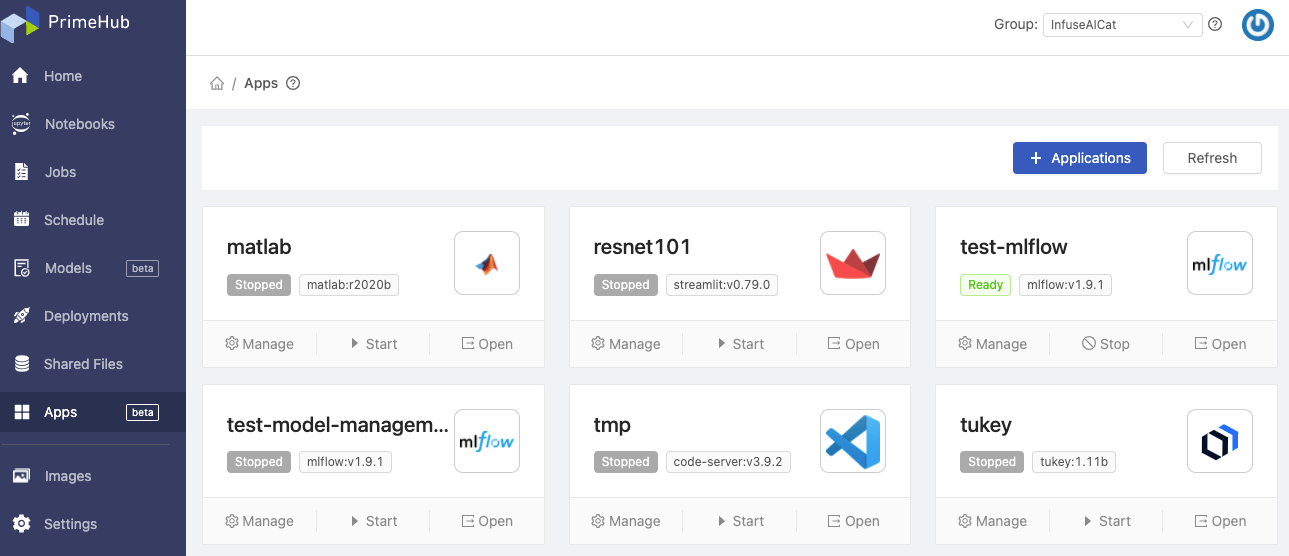 Installed Apps

The landing page of Apps displays installed applications;

| Info | Description |
| --- | --- |
| Title | The name of the application instance |
| Status | The status of the application instance |
| App version | The application version of the instance |
Manage: Enter the detail page of the instance
Start/Stop: Toggle the instance
Open: Open the URL of the application in a new tab
likewise it displays a blank when no installed one.

+ Applications: Select and install an application from Store
App Store

App Store menu includes built-in Apps templates and user-customizing Apps template if any.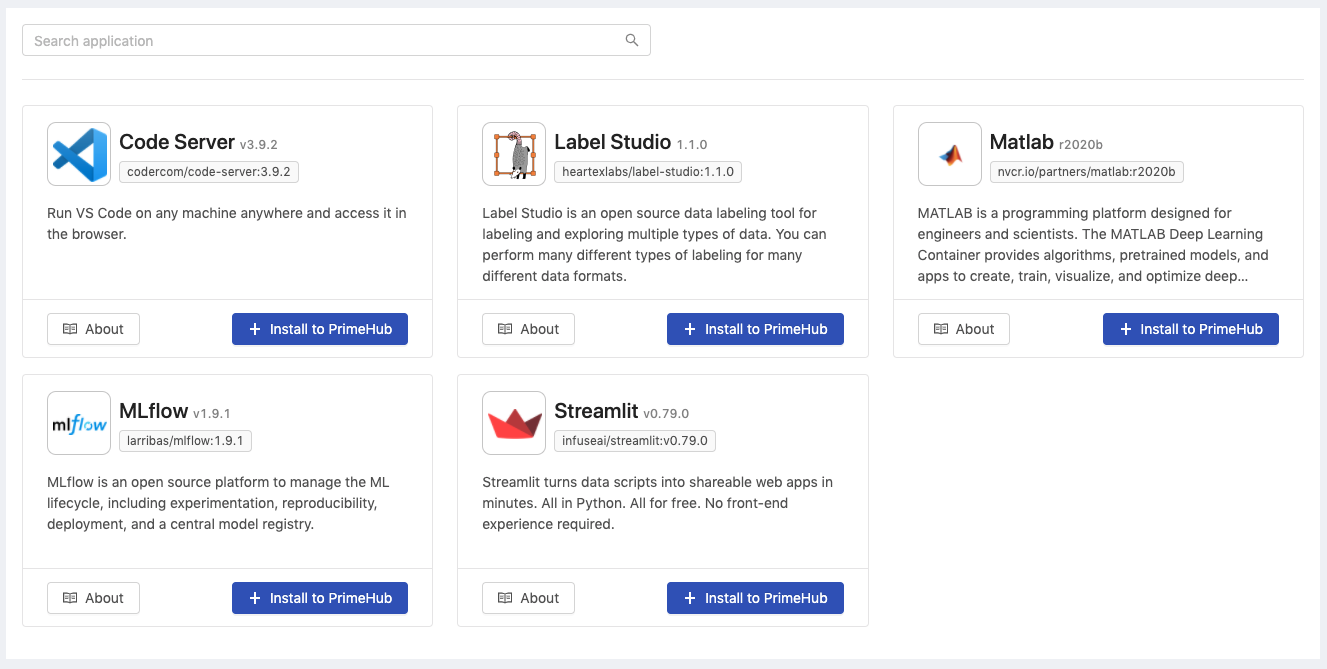 Search: Search available applications by a keyword
About: Open the external official documentation of the application in a new tab
+ Install to PrimeHub: Enter the installing page
Installing App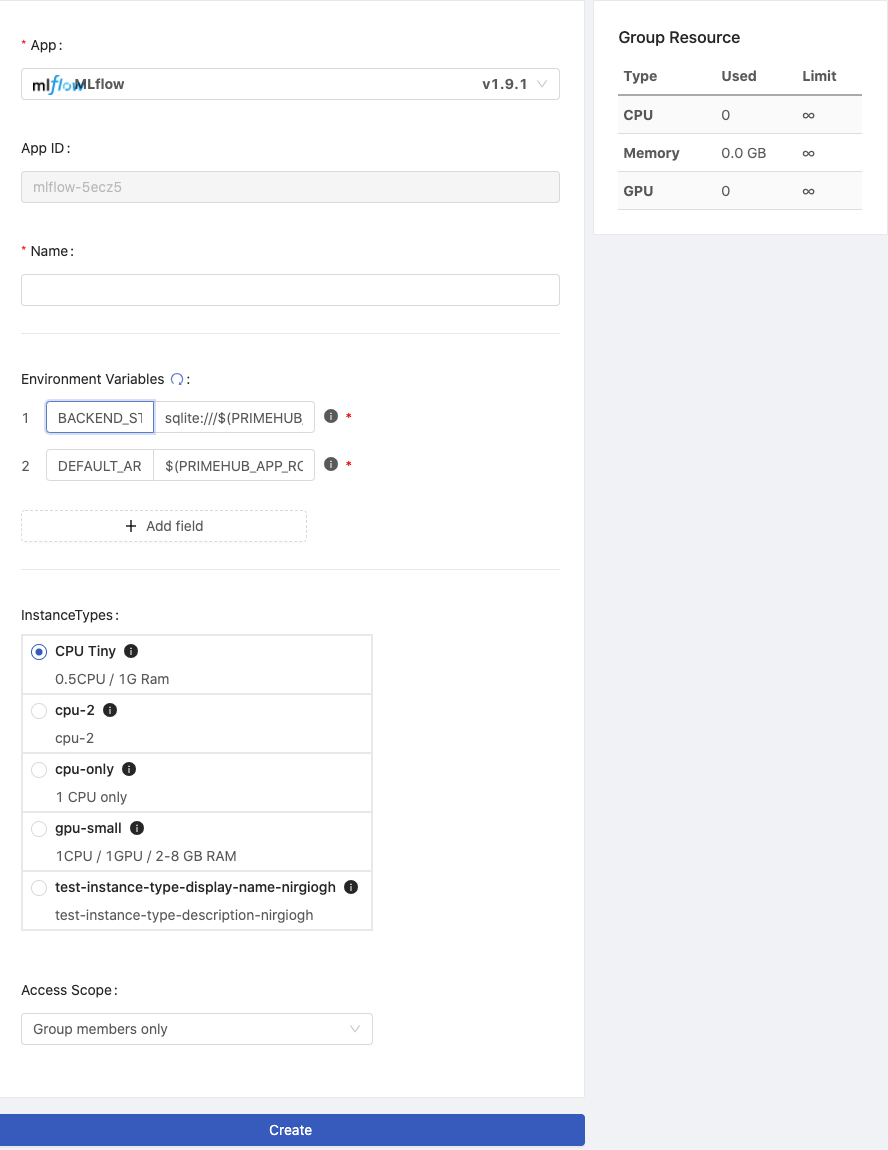 App: Selection of applications
App ID: A random unique ID of App
Name: Name the instance
Environment Variables: Displays/Add/Modify required environment variables by default
Instance Types: Select an instance type for the application
Access Scope: Select targeted users who can access the application

Group members only: Current working group members only (Enterprise Edition Only)
PrimeHub users only: Platform-wise users (Enterprise Edition Only)
Public: To anyone who has the URL
Please assure that Group Resources are sufficient to run the instance.
Preset Environment Variables

In the Environment Variables settings, to use other environment variables in the value column, the format is $(PRIMEHUB_APP_ROOT)/data.

Here are some preset environment variables we can use
PRIMEHUB_APP_ID: The application ID <app-id>
PRIMEHUB_APP_ROOT: The root of application data. This path is supposed to store the application-specific persistent data. The value is:

/project/<group-name>/phapplications/<app-id> if the group volume is available
/phapplications/<app-id> if the group volume is not available

PRIMEHUB_APP_BASE_URL: The url prefix for the application. The value is /console/apps/<app-id>
PRIMEHUB_URL: The external url of PrimeHub
PRIMEHUB_GROUP: The group name
Installed App Detail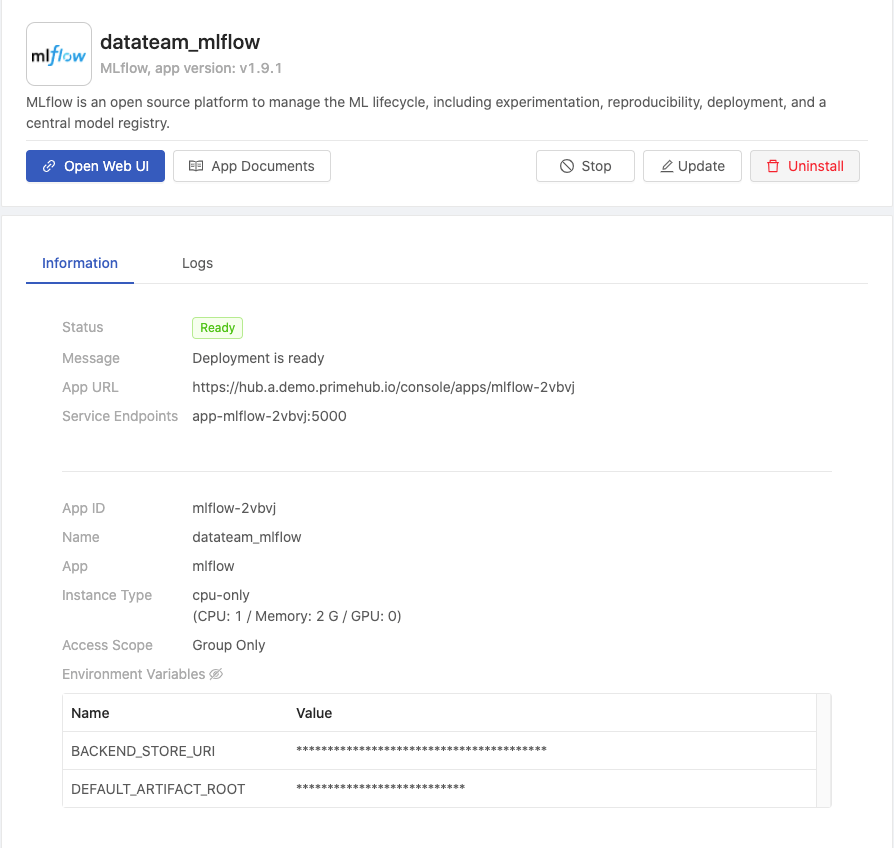 Panel
Title: The name of the application instance
App version: The application version of the instance
Description: A digest of the application
Action buttons:
Open Web UI: Open the URL of the application in a new tab
App Documents: Open the external official documentation of the application in a new tab
Start/Stop: toggle the instance
Update: Modify the instance detail and re-start the instance with updates
Uninstall: Remove the instance
Information
| Info | Description |
| --- | --- |
| Status | The status of the application instance |
| Message | The message describes the status; error message if any |
| App URL | The URL of the application |
| Service Endpoints | The service endpoints. Clients in the cluster can access this application by HOST:PORT directly. |
| App ID | A random ID of App |
| Name | The name of the instance |
| Instance Type | Allocated instance type |
| Access Scope | The targeted users who can access the application |
| Environment Variables | Added environmental variables |
Logs

The logs of the running instance.

Log viewer only list the latest 2000 lines of logs. Clicking Scroll to Bottom to check the last logs at the bottom or clicking Download to download a complete log file